Thank you to everyone that made Navidad de los Ninos a HUGE success! We could not have done it without the help of our wonderful and generous sponsors which include VALERO, The Port of Corpus Christi, CITGO, Corpus Christi Medical Center, HEB, Christus Spohn, and Pinnacle Roofing Company. These companies truly are the backbone of making this event successful and we cannot thank them enough for everything they do for WBA and the westside community as a whole!! A great big thank you to all our WONDERFUL volunteers who gave up their Saturday to help us make the children's Christmas event a success. We also have to thank Esmer Teran with the Antonio E Garcia Center, Viva Mexico Ballet Folklorico, Leslie Valadadez, Girl Scout Troop 96026, Weinerschnitzel, Rhino Equipment Services, Betty Jean Longoria aka Mrs Claus, the Medical Society Medical Alliance for donating all the bicycle helmets, and the 30 + vendors booths that made sure the children had plenty of activities and fun on the grounds of the Garcia Center. A special thanks to the Ice Rays players and mascot, HEB Buddy, and the Hooks – Rusty Hook, and the Islanders athletes who all together absolutely "wowed" the kids with their presence.
The children were treated with a framed picture with Santa & Mrs. Claus , toys, cookies, hot dogs, and over 100 children went home with bicycles and a helmet, scooters, basketballs, soccer balls, etc etc.
The Westside Business and it's board of directors are so happy and proud to have brought this 39th Annual Navidad de los Ninos to our community. Our mission to service our business members as well as the children in the westside, revitalization and economic development is a mission we stride to meet every year and we look forward to another successful year in 2023. Please do not hesitate to reach out to us, If you are interested in joining and being a part of this dynamic group!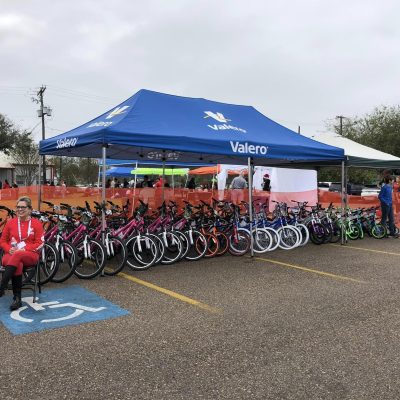 Date: Saturday, December 3, 2022
Location: Antonio E Garcia
Time: 10:30-2:300pm